Search Committee Candidate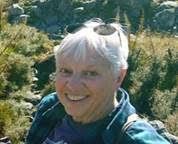 Email: jackie@stimpert.com
My parents brought me to this church in 1955 when I was 9. I went through the Sunday School; joined for a time in the Unitarian Players of which my father was a founding member; married Don whom I met in Fellowship Hall when he was working lights and I was painting the set.
From there I taught Sunday School for 9 years while our children attended. I chaired the Bridge Group and joined the Gospel Choir. We loved the church retreats which I chaired a few times, the church musical in which our daughters were involved, and the neighborhood groups where we met some of our closest friends. Onward through a term on the Board, involvement in the Membership committee, reviving the Punderson Women's Weekend and chairing it for three years, taking on Helping Hands to assist those in need of rides or meals, leading one covenant group and participating in a second, forming a committee to resurrect the Angus MacLean Memorial Garden, and finally taking on the 2016 Auction.
I admit to having had quite a battle with myself over the invitation to join the Search Committee. In the end it was the affirmation by others in my ability to take on this task that encouraged me to throw my hat in the ring. Over the past 10 years much of my time has been devoted to two aging parents and six new grandchildren, #7 on the way. They are a top priority for me, but I think I can manage the time to give to the Search. I have strong ties to this community and hope I can live up to the expectations of the congregation.