This is a special invitation to everyone in our 7th – 12th grades for the first regional youth event or CON event since the COVID pandemic made those not possible.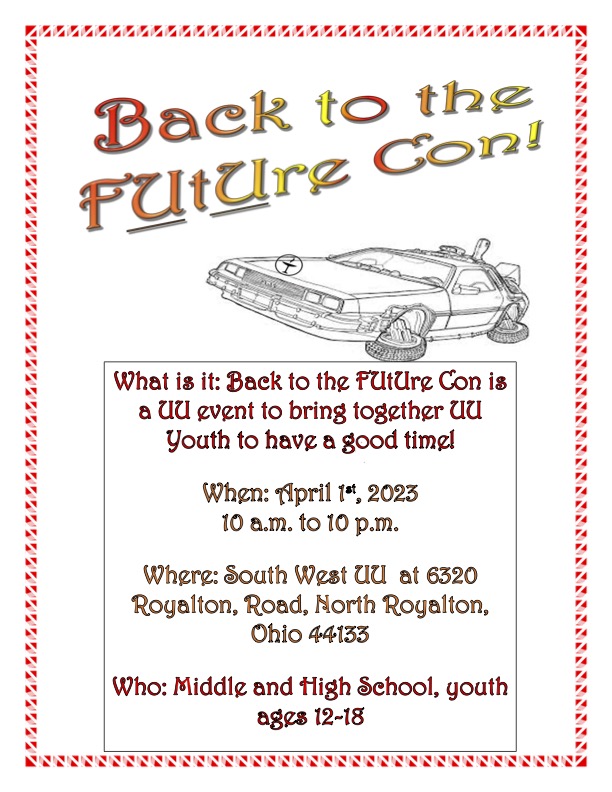 When: April 1, 2023 from 10AM – 10pm (an all day event, but no overnight for this first one!)
Where: Southwest UU in North Royalton (6320 Royalton Rd, North Royalton, OH 44133)
What Is Happening: Area UU youth from 7-12 will gather, join in programs and games, a talent show, collaborate on creating worship and learning youth leadership and collaboration skills. Lunch and Dinner plus snacks provided!
Cost: Sliding Scale of around $15 (for food costs and other logistical needs)
Participation Requirements: Registration and approval of DRE is required for those attending. Every participant will need a Sponsor who will be at the event (often this is a parent or family friend who will be there on the day).
Registration Details: Can be found at this website. Including contact information about registration with the registrar for the event.
COVID Protocols: Masking and negative COVID tests will be required of all participants, pursuant to UUA guidelines.
Sometimes it is hard to tap into our spiritual selves or find time to nurture our creativity and intellectual curiosity. Here is a section that reflects on some nourishing materials from around the web and related media channels in order to get us thinking, get us feeling, and get us reflecting on the lives we are living in this big world. **Some Adult/Mature Themes May Appear in Links and Other Attached Material**
–––––––––––––––
Allan T. Georgia, MDiv, MTS, PhD