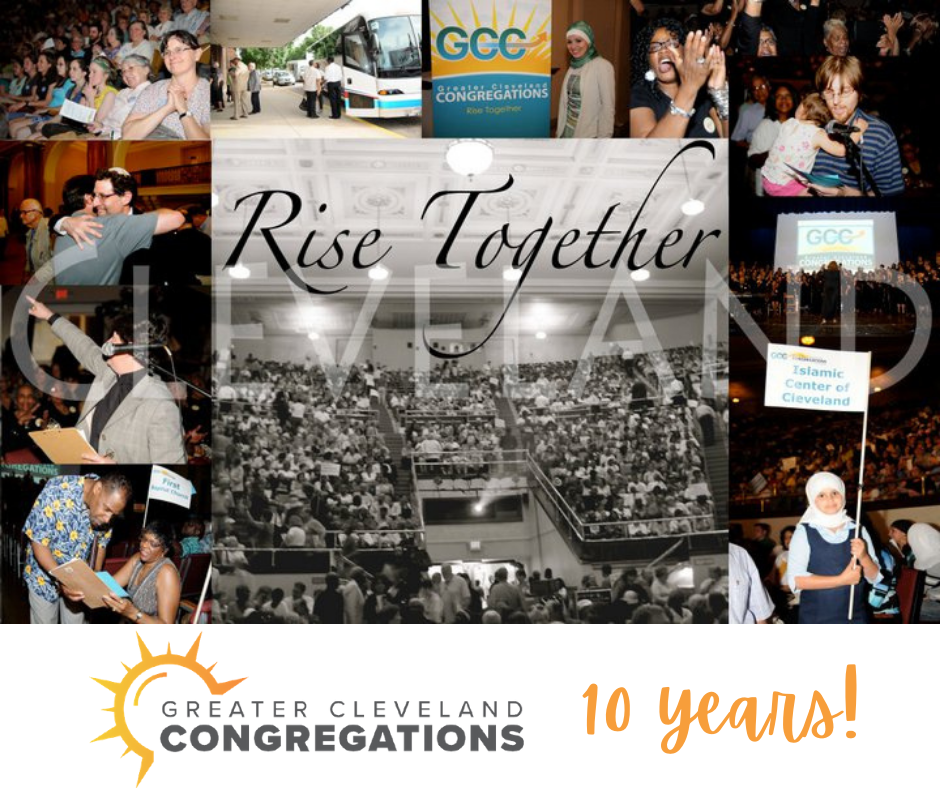 This Sunday, June 6, is GCC's 10th anniversary. Ten years that have seen:

A productive past…
In 2012, 2014 and 2016, we trained hundreds of volunteers and mobilized thousands of voters to pass two critical levies and a school construction issue for the Cleveland Metropolitan School District.
Our organizing work resulted in the creation of Cuyahoga County's first-ever Civil Rights Unit along with a third Drug Court whose criteria do not exclude people of color.
We led the state in efforts for Medicaid Expansion in Ohio by organizing an area-wide coalition of healthcare providers and advocates.
A purposeful present…
Our relentless campaign for a long-needed mental health and addiction crisis diversion center to keep people out of jail resulted in Cuyahoga County opening a center at Oriana House on May 4, 2021.
We partnered with East Side congregations, MetroHealth, the Cuyahoga County Board of Health and United Healthcare to organize onsite COVID testing of approximately 5,000 individuals between July and December 2020.
Within three weeks in the fall of 2020, we trained 285 leaders to alert voters whose ballot applications had been rejected. We made 13,000 voter contact calls, sent 650 emails and delivered 1,500 door hangers. The result: 7,000 ballots were corrected.
And a focused future…
We are organizing pop-up COVID-19 vaccination sites at East Side houses of worship — trusted institutions in heavily impacted neighborhoods — with the goal of vaccinating 7,000 African-American Clevelanders by the end of 2021.
We are canvassing voters in five Cleveland neighborhoods which have seen historically low voter turnouts in recent elections to engage them around the Cleveland mayoral election later this year.
Our Community Purchasing Alliance congregations have begun to use their collective spending power to negotiate better prices for waste hauling, electricity and natural gas.
Help us celebrate GCC's 10th anniversary by giving GCC a shout-out on Facebook and Twitter! Be sure to tag us when you do to @GreaterClevelandCongregations on Facebook and @GreaterCleCong on Twitter!

And help GCC to celebrate its 10th anniversary — and to continue its work of building power to create change — by making a donation online or by mail to 6114 Francis Ave, Cleveland, OH 44127.