Music Overview
Our Music Director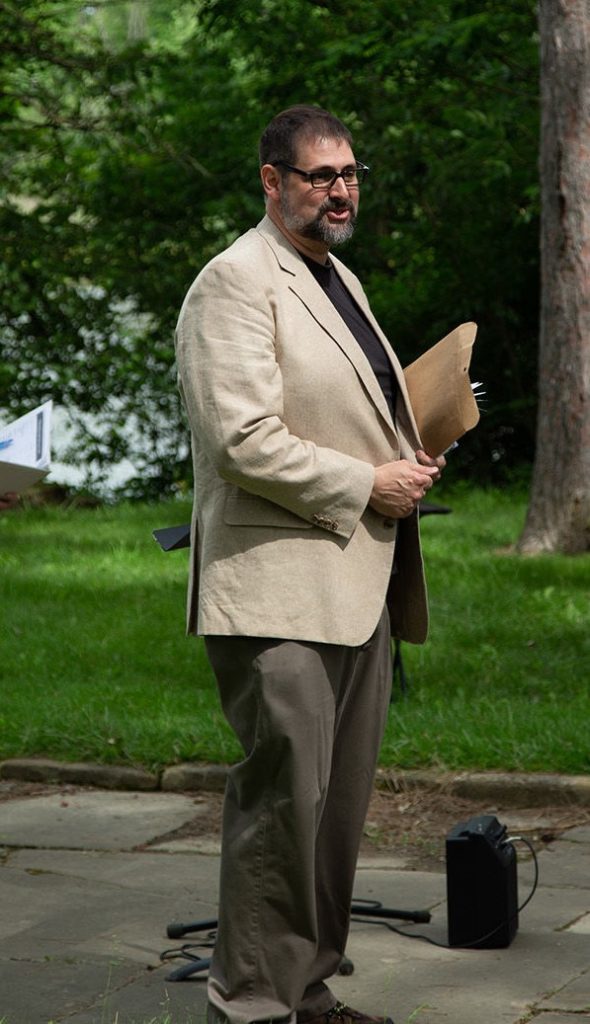 A lifelong UU and native of Greater Cleveland, UUCC's Music Director Mike Carney has been a passionate and dedicated performer, director, and music educator for over 25 years. He has degrees in vocal music education from Baldwin Wallace University, where he studied with Stuart Raleigh, Mel Hakola and Charlie Smith among others, and in choral conducting from Kent State University, where he studied with C. M. Shearer. Mike spent the first two decades of his career developing award-winning high school choral programs, and now teaches Classical and Rock Music History courses at Walsh University and directs Good Company, A Vocal Ensemble – a select community chorus based in Lakewood. At UUCC, Mike directs the Chancel Choir, Women's Ensemble, Men's Singers and Multigen Choirs, as well as performing as a vocalist and pianist/organist for services. Mike organizes and coordinates all congregational music for services and special events, including vocal and instrumental guest musicians from within the congregation and elsewhere. As a director and performer, Michael has performed nationally and internationally and has shared the stage with thousands of musicians, working collaboratively with Ola Gjeilo, David Conte, Joan Szymko, Jim Scott, Moises Borges, and many others. Michael lives in Lakewood with his wife Lucy, and they enjoy traveling, making music together, and spending time with their two adult children.
UUCC Pianist Karin Tooley plays in our services 2-3 times each month. Karin holds a Bachelor of Music degree in piano performance from the Cleveland Institute of Music. She has accompanied ballet and modern dance at Mather Dance Center at Case, the Cecchetti Council of America Summer Dance Intensive, Cleveland City Dance, Cleveland School of Dance, Cleveland School of the Arts, Cleveland-San Jose Ballet, Verb Ballets, Dancing Wheels, Cleveland Inner City Ballet, CSU Dance, and Fairmount Fine Arts Center. Karin also accompanies Windsong, Cleveland's Feminist Chorus. In 2012, Karin performed with CityMusic Cleveland in the children's opera Brundibar. That same year she joined the Chagrin Falls Studio Orchestra and began branching out into musical theatre, pops, film music, and American classics. Most weekends she plays Great American Songbook charts with the Don Disantis Orchestra at restaurants and clubs.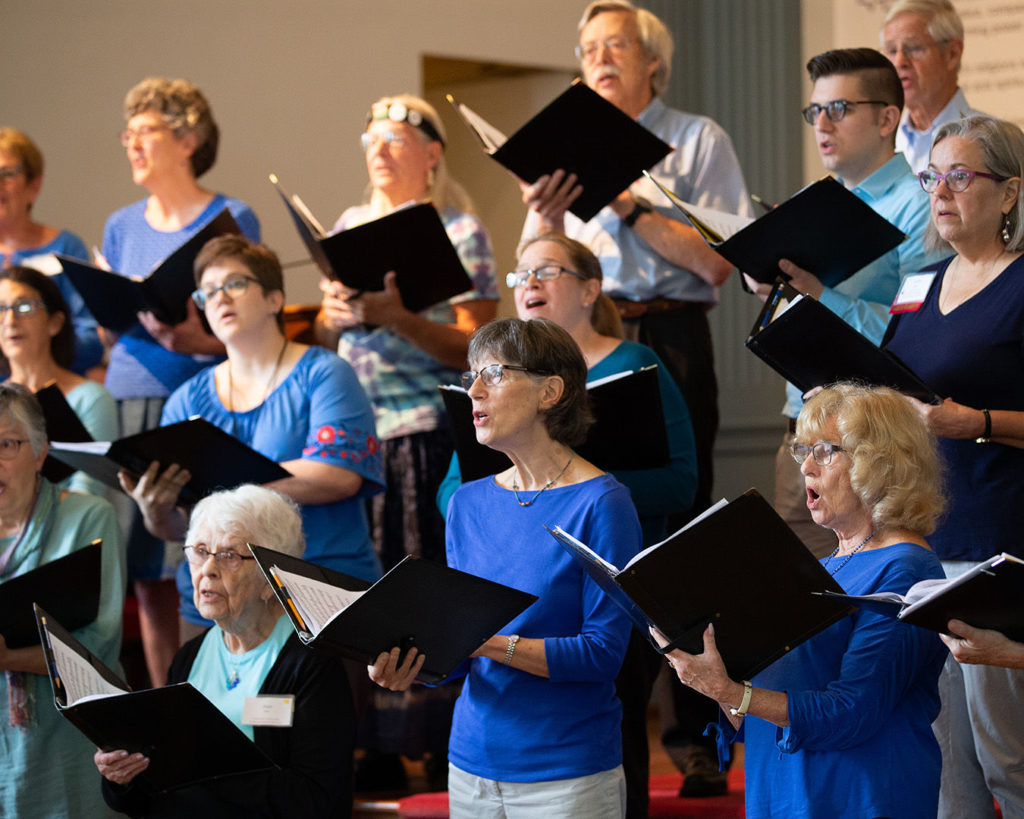 The Chancel Choir
Directed by UUCC's Music Director Mike Carney, UUCC's Chancel Choir sings in 2-3 services each month, performing a wide variety of musical styles, including classical, folk, world music, jazz and popular music. The Chancel Choir is open to all adults and high school youth and new members are always welcome! No previous musical experience is necessary to sing with the Chancel Choir. Rehearsals are from 7-9 p.m. each Wednesday evening in the Worship Center (Room 208) and sanctuary from late August through May. For more information, contact UUCC Music Director Mike Carney (link).
The Women's Ensemble
UUCC's Women's Ensemble is a select treble chorus led by UUCC's Music Director Mike Carney. The Women's Ensemble typically sings in one service each month from September to May and rehearses as needed during the church year. If you are interested in joining the Women's Ensemble or would like more information, contact UUCC Music Director Mike Carney (link).
The YoUUth Choir
The UUCC YoUUth Choir welcomes all youth in grades 4-8. The YoUUth Choir rehearses on Wednesdays from 6-7 pm in the sanctuary from September through May and typically sings in at least one service per month. The YoUUth Choir sings all kinds of music, from simple unison chants and seasonal music to more challenging musical selections in 2 or 3 part harmony. If you are interested in joining UUCC's YoUUth Choir or need more information, please contact our YoUUth Choir leaders, Molly Watkins (watkins.mollyj@gmail.com) or Alicia Burkle (aliciaburkle@gmail.com).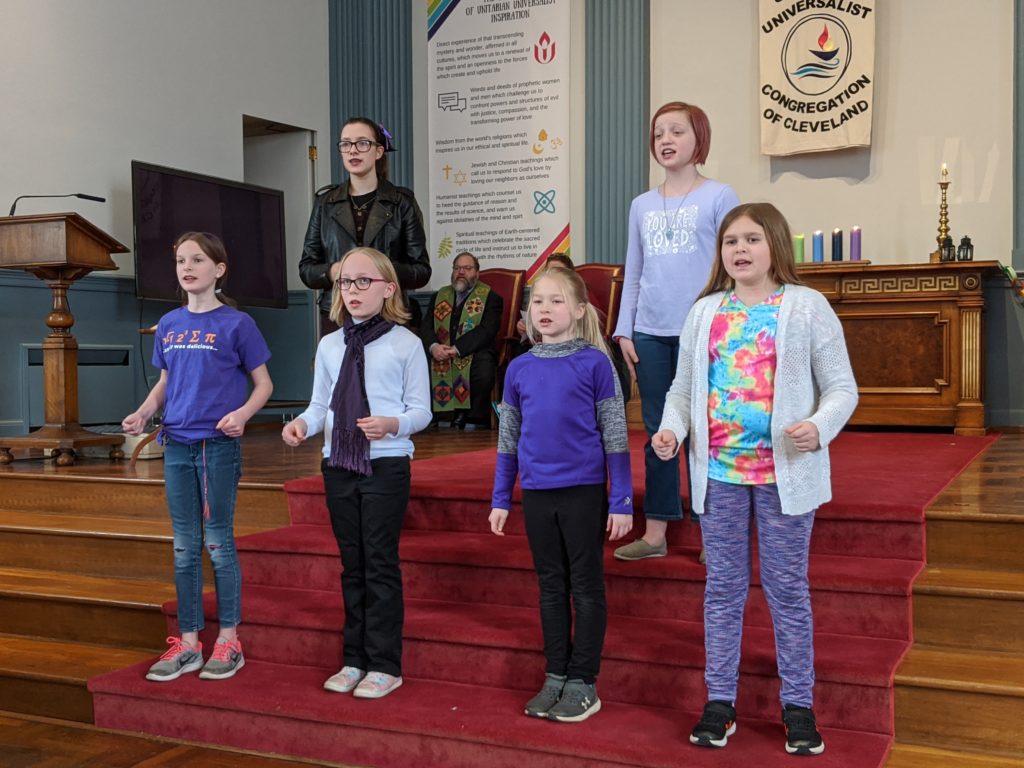 Multigen Choir and Men's Singers
From time to time, our services will feature a Multigenerational Choir or The UUCC Men's Singers. These groups are led by UUCC Music Director Mike Carney and rehearse only on the same Sunday morning when they will be featured in the service, so there is no weekday commitment. Keep an eye on our weekly eblast for opportunities to sing with the Multigen Choir or Men's Singers.
Church Instruments
A Rodgers Trillium organ was installed in 2004. The church's original 11 rank Holtkamp organ is installed in a chamber above the chancel and is played from the Rodgers console.
A nine-foot 1915 model D Steinway concert grand piano purchased in the 1960s by Robert Shaw was restored in 2006 by Ron Kunkle in Akron.
The church also owns a Dowd two manual harpsichord, and a Baldwin Piano in the Baker Room.
The other pianos around the building are owned by the Cleveland Institute of Music for their Preparatory Department which rents space in our building.
Guest Musicians
Adult and youth members of the congregation are often featured as guest musicians within our services, as are visiting professional musicians of all types. If you are interested in playing or singing in an upcoming service or have a suggestion for an outside musician or group, contact UUCC Music Director Mike Carney (link).